Gutter is a narrow trough or duct which collects rainwater from the roof of a building and diverts it away from the structure, typically into a drain. The main purpose of a rain gutter is to protect a building's foundation by channeling water away from its base. They also help to reduce erosion, prevent leaks in basements and crawlspaces, protect painted surfaces by reducing exposure to water. It also protect your landscaping and play a role in reducing the likelihood of basement flooding as well as mold and fungus growth. Having gutters install can even benefit the foundation of your home.
Vinyl siding is the most cost effective way to protect your home from the elements, save on energy costs, and attain the satisfaction that comes from knowing you will never have to paint again.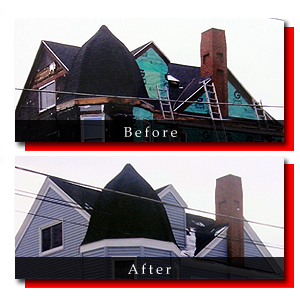 Roofing is the process of installing a new roof when a roofing system fails. Roofing system failures can be caused by a number of factors, including age, severe weather, poor workmanship, defective materials, improper specification of a roofing system, abuse and failure to maintain the roof via inspections.